Managing Partner, Chesapeake Cardiac Care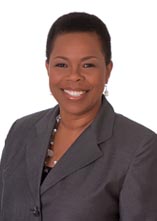 Dr. Barbara Hutchinson is the managing partner of Chesapeake Cardiac Care. She is passionate about caring for people with cardiovascular diseases which is the leading cause of death in both men and women. She was born in Tobago, West Indies and received her Bachelor of Science degree from the University of the West Indies in Trinidad. Her childhood curiosity about heart disease in her father's family, led her to the United States to pursue a career in cardiovascular disease management. She completed a Ph.D. in Cardiovascular Pharmacology at Howard University before going on to the University of Maryland in Baltimore where she completed her medical degree, residency in Internal Medicine and cardiology fellowship. At the University of Maryland she was the first African American to hold the titles: medical school class president and the Chief Resident in Internal Medicine.
VIDEO: Dr. Hutchinson Gives an Overview of AAMC's Heart and Vascular Institute (2:19)
After completing her cardiovascular training, she remained on staff briefly before going into private practice in Annapolis, Maryland. She believes that good health is the cornerstone of progress because without it our plans may not materialize. She is recognized as an outstanding clinician who is detail-oriented, ensures that patients understand their medical condition, why they need certain tests and how the information would help in their care. She attracts patients from out of state and other countries. She enjoys her job and it is manifested in the way she treats her patients who feel special after meeting her, because of her warmth, welcoming spirit and excellent bedside manner. She listens to her patients and allows them to be a part of their care by helping them to make right choices on a daily basis. She is committed to achieving the highest level of patient satisfaction through cutting edge medical care and services that she provides to her patients with varying cardiovascular problems.
Dr. Hutchinson has presented many papers and lectures nationally and internationally. She is a member of several medical associations which include the American College of Cardiology, Association of Black Cardiologists, American Society of Echocardiography, American Society of Nuclear Cardiology and the American Academy of sleep medicine.
She finds time to give back to the community by her involvement in her church and volunteering her services at a clinic for individuals without insurance. She is a mentor to high school students considering a career in medicine and she allows residents considering cardiology as a specialty to spend time in her practice.
Away from the office, Dr. Hutchinson is an excellent cook specializing in preparing healthy meals that taste well and do not compromise cardiovascular risk factors. She is also a musician and being from Trinidad, the home of the steelpan, this is one of the instruments that she plays as part of a band.
To know and meet Dr. Hutchinson at Chesapeake Cardiac Care is to experience outstanding evidence based cardiovascular medical care with confidence, warmth and efficiency.