MD, MPH
Major General, USAF, MC (retired)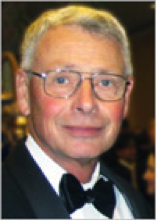 Dr. George Anderson is the Executive Director of the Association of Military Surgeons of the United States, which is the non-profit society of the federal health agencies. Following his medical and public health education, he began his professional career as an Air Force Flight Surgeon. His military service included overseas duty in Korea and Germany as well as aerospace medicine leadership positions in the United States. Late in his military career, as Commander of the Human Systems Center, he directed Air Force organizations responsible for life science research, development, acquisition, and education. Later he served as Deputy Assistant Secretary of Defense for Health Service Operations and Readiness.
Following thirty years of military service, he retired from active duty as a Major General and transitioned to physician executive positions in the private sector. He served as the Chief Executive Officer of the Koop Foundation, Inc. and later of Oceania, Inc., a medical software company. He is a Past President and Fellow, American College of Preventive Medicine; Past President and Fellow, Aerospace Medical Association; Past Chairman, American Board of Preventive Medicine; Distinguished Fellow, American College of Physician Executives; and Member, International Academy of Aviation and Space Medicine. Dr. Anderson now resides in Annapolis with his wife, Kim.