Chairman & CEO, e-Development International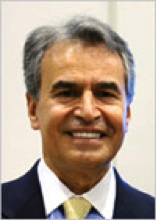 Mr. A. Reza Jafari is the Chairman and CEO of e-Development International. Based in Washington, DC, USA, e-Development International is an executive advisory group that promotes, facilitates, advises and participates in Information and Communication Technology (ICT) initiatives for Social Entrepreneurships and Public Private Partnerships for economic development and ICT as an infrastructure for promoting access and availability of Healthcare, Education, Cyber Security, Agriculture and alternative sources of Energy in developed and emerging markets worldwide.
On the industry association and non-profit front, currently Mr. Jafari is a Special Advisor to the Secretary General of the United Nations; the Chairman of the Board of Directors of ITU TELECOM (International Telecommunication Union, a UN Agency); a board member of GSMA Ltd., a wholly owned subsidiary of GSM Association; the Chairman of the Board of the India, China and America Institute (ICAI) and a member of the Governor's Council for International Business, Maryland. He also served as the Chairman of the Finance Committee for the election of Mayor Josh Cohen in Annapolis, MD.
Mr. Jafari served as the Chairman and Managing Director of NeuStar International (2005 – 2008). Prior to joining NeuStar, Mr. Jafari was the Chairman and CEO of The Omega Partners, an executive advisory group based in Atlanta, USA (2002-2005). From 1990 to 2002, Mr. Jafari held various senior executive positions at Electronic Data Systems Corporation (EDS an HP Company)) including Group President of EDS' Global Communications, Media and Entertainment Industry Group and Managing Director of the Communications and Media Industry Group for Europe, Middle East and Africa.
Mr. Jafari's career also includes seven years as the Founder, President and CEO of Satellite Conference Network and Bankers-TV Network in New York City.